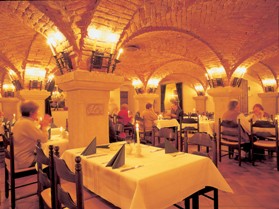 The Zöllnerstube

Experience more than 650 years Zollhaus-tradition. Already in the year 1343 in Hermsdorf 
a customs station was was located which was connected to the customs office Frauenstein 
and was situated to a very significant long-distance traffic route, which started at
Klostergrab and went on via Hermsdorf and Seyde to Dippoldiswalde. Visit us at the old
famous business traffic route from Böhmen to Saxony.

We are waiting for You in our new designed customs room.

In the Zollhaus You can find:

"palate joys added with a spice of history" with domestic and international kitchen in historic atmosphere. A kitchen, which is set apart from Einerlei of many hotel kitchens and a friendly and  courteous service.

In the near future there will take place theme-evenings like e.g. Fondue-evening -
just ask us. We are pleased to satisfy your hunger, too.